In the challenging journey of addiction recovery, treatment isn't just limited to the detoxification process and in-patient therapy sessions. Recovery is a lifelong commitment, a marathon rather than a sprint. For this reason, aftercare programs have been designed as essential components in the recovery paradigm to assist individuals navigate through the various challenges post-rehabilitation. These programs aim to provide a solid foundation for patients' sustained recovery. Learning more about the benefits of aftercare programs can provide hope for anyone who thinks that recovery might be too difficult.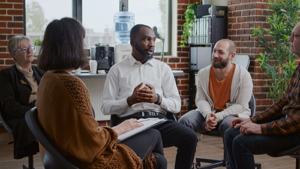 If you or someone you care about has been looking at aftercare programs in Wakefield, MA, Aftermath Addiction Treatment Center has what you need. Our comprehensive aftercare resources are an indispensable part of the recovery journey, providing the support that individuals need to return to day-to-day life. Our strong alumni program gives patients who have completed treatment a space to get together with other patients in recovery. This is just one of many programs we offer at our facility in Wakefield, Massachusetts. You can talk to one of our admissions team at 855-795-1226 today.  
What Is Aftercare? 
Aftercare, also known as continuing care or follow-up care, is an integral part of the addiction treatment process. It is designed to support individuals who have completed an initial phase of addiction treatment, such as a partial hospitalization program or intensive outpatient program. These programs may span different types of treatment modalities, including:  
Outpatient counseling 
Support group meetings 
Relapse prevention coaching 
Sober living homes 
Ongoing education about addiction 
Anger and stress management training 
Life skills training 
A pivotal aspect of aftercare programs is their adaptability, designed to meet the unique needs and circumstances of each patient. The personalization of aftercare is critical because the factors that contribute to addiction and relapse vary widely among individuals, as do the strategies for effectively managing them. 
Aftercare is also a long-term approach to recovery, often continuing for months or even years after initial treatment. The program durations are flexible, depending on the person's needs, individual progress, and the severity of the case. The goal of aftercare is to provide ongoing support that empowers individuals to maintain their recovery journey and successfully reintegrate into society without returning to substance use. 
What Are the Benefits of Participating in Aftercare? 
Continuous Support 
The sense of community and continuous support provided by aftercare programs is invaluable. It reinforces the fact that the patient is not alone in their recovery journey. By offering a safe space to share experiences, ask for advice, and receive understanding and encouragement, these programs help bolster the resilience and resolve of those in recovery. 
Reinforcing Healthy Habits 
Aftercare programs also serve as an ongoing platform to reinforce the healthy habits and coping mechanisms learned during initial treatment. Individuals can discuss challenges they face and seek guidance from professionals or peers on how to apply these techniques effectively in different life situations. 
Relapse Prevention 
One of the key benefits of aftercare is the crucial role it plays in relapse prevention. Aftercare programs usually provide education about relapse triggers and develop strategies to avoid or cope with these triggers effectively. The continuous monitoring offered to patients also helps to identify early signs of potential relapse, allowing for timely intervention. 
Access to Resources 
Aftercare programs often provide access to a host of resources that aid in maintaining sobriety and promoting overall well-being. This can include:  
Educational resources 
Vocational training 
Job placement services 
Housing assistance 
Other community-based resources 
These provisions can significantly assist individuals in rebuilding their lives during recovery. 
Mental Health Support 
Many individuals recovering from substance use disorders also struggle with co-occurring mental health conditions. Aftercare programs can offer continuous therapeutic support to manage these conditions alongside addiction. This holistic approach significantly enhances the prospects of long-term recovery. 
Call Now Aftermath Addiction Treatment Center in Wakefield, MA, Today
At Aftermath Addiction Treatment Center, we understand that aftercare programs are a critical element in the comprehensive approach to addiction treatment. They serve to bridge the gap between intensive treatment and independent sober living, providing ongoing support to prevent relapse and promote sustained recovery. If someone you care about is ready to reclaim their life from the grasp of addiction and move towards a healthier, happier future, contact us today at 855-795-1226. We'd be more than happy to talk about how our addiction specialists can provide the necessary support.