Prescription drug addiction is a serious problem that has been plaguing individuals, families, and communities all around the world. A specialized prescription drug rehab program offers more than just an opportunity to abstain from using drugs—it provides a support system that helps people understand the underlying causes of their addiction. Furthermore, it helps develop healthier coping strategies for dealing with stress or other triggers in a safe environment.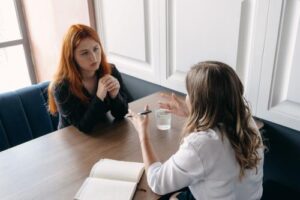 At Aftermath Addiction Treatment Center, we understand that the path to recovery from prescription drug addiction is not easy. This is why our prescription drug rehab program offers comprehensive and individualized treatment plans tailored to each patient's unique needs. Our team of experienced professionals provides a supportive environment for all patients in order to help them on their journey toward sobriety. With our prescription drug rehab program, you'll have access to the resources you need for lasting recovery. For more information about your drug treatment in Wakefield, MA, reach out to our team of experts today at 855-795-1226. 
What Is Prescription Drug Rehab?
Prescription drug rehab programs are designed to help clients recover from an addiction to prescription drugs by addressing the underlying causes. Clients in these programs can expect to receive medical and psychological support, education, and counseling as they move through the various stages of recovery. During treatment, clients will work with counselors and other professionals to identify underlying issues contributing to their substance use disorder, create personalized coping strategies, and develop a relapse prevention plan.
In many cases, prescription drug rehab programs start with detoxification. This phase involves removing any traces of drugs from the body while managing withdrawal symptoms under the supervision of medical professionals. 
After detox is complete, the next step involves treatment and rehabilitation in order to help the individual work through the root causes and mental triggers of addiction. This may involve one-on-one or group therapy sessions as well as a variety of services that include aftercare assistance and specialized counseling services. In addition to providing emotional support, counselors will work directly with clients to provide practical advice on how to manage cravings and reinforce healthy behaviors.
Types Of Prescription Drug Rehab
At Aftermath Addiction Treatment Center, we offer intensive outpatient programs (IOP) and outpatient programs (OP) to provide the highest quality of care and support for those who need help.
Partial Hospitalization
Prescription drug rehab programs typically provide an intensive level of support for those seeking treatment for addiction. Partial hospitalization programs (PHP) are among the most common types of these treatments, and they can provide a comprehensive approach to recovery from prescription drug addiction. 
PHPs involve a commitment to attend treatment multiple days each week, usually at least five days per week. During these sessions, individuals will receive both psychological and medical support tailored to their specific needs. This includes individual and group counseling, as well as educational sessions led by medical professionals that focus on developing healthy lifestyle habits. 
The benefits of partial hospitalization include:
Structured and supervised environment 
Intensive treatment in a safe, supportive setting
Highly structured program specifically tailored to individual needs
Education about addiction and its consequences
Coping strategies for managing cravings and triggers 
Group therapy sessions centered around common issues facing those overcoming addiction
Intensive Outpatient Program
Our IOPs are designed for individuals who require intensive treatment but who also need to adhere to their responsibilities at home and/or at work. This program is designed to offer a flexible schedule so that clients can access our life-changing services to address their addiction and work toward sobriety. 
IOPs are typically used as a way to transition from more intensive programs, such as a partial hospitalization program, back into everyday life. IOPs an ideal program for individuals who are working to adjust as they continue to make strides toward sobriety. They offer services that include:
Individual therapy
Group therapy
Family counseling sessions
Mindfulness skills building
Motivational interviewing
Medication management
IOPs are a wonderful option for clients who are seeking to build upon their recovery journey and continue to heal and build new skills to maintain long-term recovery from addiction. 
Find Healing With Aftermath Addiction Treatment Prescription Drug Rehab Program
Prescription drug rehab is a vital part of the recovery process for those struggling with prescription drug addiction. With its evidence-based approach, this program can help individuals safely and effectively manage their withdrawal symptoms while learning new coping strategies for managing cravings in order to achieve long-term sobriety. To learn more, reach out to our team of experts today at 855-795-1226.