Case management is a collaborative, patient-focused approach to providing you with the comprehensive care you need and deserve. Some of the fundamental principles of case management include linking patients with essential community resources, assisting patients with navigating through their healthcare system, and providing them with a compassionate and knowledgeable point of contact to further aid in understanding and effectively moving through the health and social service system, facilitating treatments and holistic care, and discussing the many different available programs at Aftermath Addiction Treatment Center. Contact us at 855-795-1226 to learn more about case management.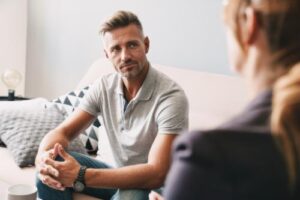 What is Case Management?
Patients suffering from substance abuse and addiction will often have numerous social problems as well, be that a criminal record, lack of employment, job skills, or even a home; many substance abuse patients have fractured relationships with families and friends, been victims of domestic violence or still sharing space with an abuser. Case management within substance use disorder (SUD) treatment will involve accessing various health and social services resources to best support each individual as they move through the continuum of care, including recovery through programs at aftermath addiction treatment.
An addiction case manager will coordinate your care continuum while in rehab and during your recovery from drug or alcohol addiction. This care happens before, during, and after you experience detox and rehab or participate in formal addiction treatment. Case management can be helpful because many overlapping support teams may work with you over a prolonged treatment period and in various facilities. The addiction case manager is responsible for keeping every one of these teams and your personal and private information, goals for recovery, and treatment milestones in sync.
Additionally, effective case management can work well in keeping family members and other interested parties well informed of your treatment and progress in recovery, help you navigate the different options for aftercare, including finding support networks and healthy peer groups, and work with you to set realistic and achievable milestones for your long-term recovery.
Do I Need an Addiction Case Manager?
When someone is receiving treatment for addiction and working toward recovery, they will likely be working with:
A detox facility
Transportation company to move to and from treatments
Residential treatment facility
Aftercare centers
Without case management, all the communication and coordination is your responsibility, making it more difficult for you to focus solely on recovery. Critical information may get lost in the shuffle as you and your loved ones try to quickly learn about all the pieces of addiction recovery and treatment. A case manager can be invaluable in keeping everything straight, allowing you to stay on the straight and narrow.
What Are the Benefits of Case Management?
When you or a loved one works with an addiction case manager during the recovery process, they receive critical help with the following:
Identifying Needs During Recovery
There is no one-size-fits-all addiction recovery solution. Between inpatient, PHP, IOP, and the many kinds of therapy during treatment and aftercare options to promote a lifetime of recovery, addiction case managers can help you identify recovery needs at various stages of treatment and provide expert recommendations based on your needs. 
Reinforcing Real-World Recovery Tools and Skills
Addiction recovery is a journey you will walk for the rest of your life. Therefore, the correct tools, skills, and support are essential to achieve recovery goals. Addiction case managers help individuals in treatment develop and practice these tools and skills at each stage of recovery in the real world.
Coordinating Care
The different treatment teams you will encounter during recovery from addiction may use their terms and language to talk about similar things and place a priority on different goals. Case management ensures that each team involved in your care is communicating with each other correctly, setting matching and realistic goals, and working in sync on your recovery plan.
The Next Steps in Your Recovery at Aftermath Addiction Treatment Center
Now that you know the answers, what is case management? You may see the benefit of having a point person who can manage your recovery, communicate with family, and allow you to focus on yourself and your well-being as you overcome addiction. Reach out today at 855-795-1226 to learn more about how case management can be vital to your successful recovery.